Fast Metabolism Food Rx Mini Cookbook and Program Guide: Autoimmunity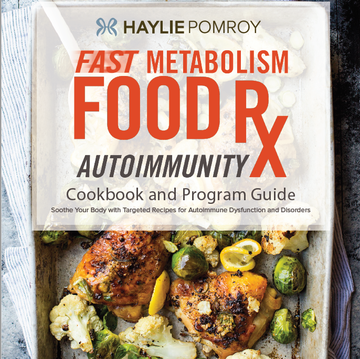 Fast Metabolism Food Rx Mini Cookbook and Program Guide: Autoimmunity
$3.99
New recipes plus a mini program guide designed for those with autoimmune disorders and challenges.
Instant Download will be sent to your email address with your order acknowledgement email
Members of the Haylie Pomroy Gold Club get all electronic books for free!  Members also receive an additional 10% off all purchases.  To explore the benefits of becoming a Member, CLICK HERE.
Description
Use this mini-guide and supplemental recipes along with my book, Fast Metabolism Food Rx to understand what your body is telling you, focus on a specific metabolic challenge and take steps towards repair, rejuvenation and regaining your body's natural balance!
This downloadable guide uses food as the prescription to support those struggling with autoimmune challenges like arthritis, lupus, type-1 diabetes, multiple sclerosis, celiac disease, psoriasis and more. Included are:
A "get started" guide to using the plan
Sample menu and meal map
Insights from Haylie on dealing with autoimmune conditions
Top 20 Power Foods list
Foundational Foods list
Brand new breakfast, lunch and dinner recipes
Each brand-new recipe uses one or more Power Foods, which are especially supportive of the immune system.
Recipes:
Sweet Potato Green Smoothie
Warm White Beans and Arugula
Asparagus, Pea and Prosciutto Salad
Sprouted Adzuki Salad
One-Pan Roast Chicken with Veggies
Chopped Salad with Lentils
Breakfast Turkey Salad
Tuna, Cucumber, and Celery Salad
Baby Greens with Sardines and Olive Oil
Sesame Grilled Chicken Salad
Spicy Turkey Skillet
Classic Italian Sautéed Beef Liver with Onions
Do you have to be dealing with one of the above issues to use these recipes? Of course not! Like all of my recipes, these are healthy, delicious and hearty meals that use targeted nutrition to help you feel great.
Instant Download will be sent to your email address with your order acknowledgement email