The Fast Metabolism Diet Cookbook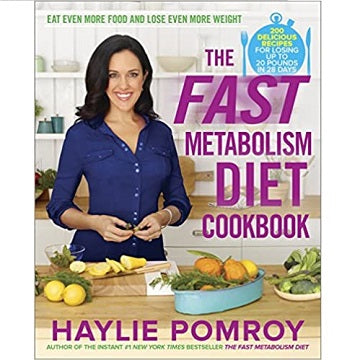 The Fast Metabolism Diet Cookbook
$26
Description
Use food to cook your way healthy
The Fast Metabolism Diet Cookbook is THE essential companion to a plan that celebrates food, thrives on variety, and has you eating at least five times a day according to a three-phase plan strategically designed to keep your metabolism burning at lightening speeds. In the cookbook, you will find:
Over 200 simple, effective, mouthwatering, family-pleasing recipes for cooking on the three phases of The Fast Metabolism Diet.
Vegetarian and vegan recipes that even meat-lovers will enjoy
A wealth of gluten-free and allergy-friendly options
Scores of freezer-friendly recipes to cook in bulk
Dozens of slow cooker options that can be prepared in no time
Desserts and sweet treats for every phase
Helpful and affordable hints and tips for cooking on each of the three phases
Suggested food swaps to add even more variety to your cooking repertoire
Whether you've already achieved results on the Fast Metabolism Diet or are trying it for the first time, The Fast Metabolism Diet Cookbook is THE ideal tool for anyone who wants to make delicious, nutritious, home-cooked food part of his or her Fast Metabolism lifestyle.
Here are just a few of the amazing recipes you'll find:
Southwestern Breakfast Stir-Fry
Oatmeal-Almond Berry Pancakes
Baked Italian-Style Beef with Winter Veggies
Sweet Potato Shepherd's Pie
Warm Asparagus and Turkey Bacon Salad
Greek Meatballs and Veggies
Lentil and Eggplant Stew
Cornish Game Hens with Mushroom-Quinoa Stuffing
Three-Melon Smoothie with Mint
Herbed White Bean Spread
Quick-Baked Apple Crisp
Rhubarb Meringue
Lemon-Lime Popsicles
Coconut Almond Pudding
Cacao Cookies